I operate using the following rigs
YAESU - FTDX1200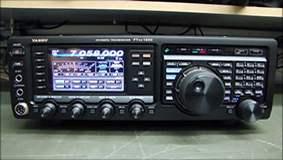 Continuing the Yaesu "FT DX" Legacy of Excellence established decades ago, the FT DX 1200 is designed for the casual operator as well competitive operating situations, whether you primarily operate in Contests, chase DX or enjoy Field operating. The High Frequency Design Technology it has inherited ensures "Best in Class Performance".

The FT DX 1200 provides up to 100 Watts on SSB, CW, FM, and AM (25 Watts carrier) and a rugged state of the art highly balanced receiver circuit configuration for top performance on today's crowded bands. Similar to the high-end "YAESU FT DX" series, it uses 32-bit high speed floating point DSP for renowned proven performance.

A built-in 4.3-in TFT wide full color High Resolution Display with loads of information provides superior operability and visibility for the FT DX 1200 user. A Spectrum Scope located just below the LCD display gives the operator all the information needed to place them at the right place on the band with the right receiver set-up to have a satisfying experience with a casual QSO chat or while digging out a rare desired weak signal contact.

Optional Accessories are offered to provide very desirable additional features that make the FT DX 1200 a flexible true high performance platform for all hams – no matter what mode they chose to operate.
160 through 6 Meters - SSB/CW/FM/AM/Digital
With efficient dimensions of 14.4" x 4.5" x 12.3" (W x H x D) and weighing in at only 20.9 pounds, the FT DX 1200 is a solidly packed transceiver ready to give very high performance on all Amateur Radio bands from 160 to 6 meters.
• General Coverage Reception from 30 kHz to 56 MHz
• FM & AM - Wide and Narrow modes included
100 Watts of Solid Performance
The RF Final Amplifier produces a clean 100 watt (some modes less) transmit signal. A large heat sink is combined with the die cast aluminum chassis for efficient heat dissipation. A cooling fan located beside the final amplifier and the TX Low Pass Filter ventilates the heat away from inside of the transceiver cabinet. This large axial flow fan is mechanically isolated from the chassis to reduce vibration and noise. The speed of the fan is continuously controlled by the temperature of the PA amplifier; starting at 40 degree C.
Antenna Tuner Included
High Speed Automatic Antenna Tuner included. The antenna tuner uses LC switching. It has a large capacity 100 channel memory; the tuning data is automatically memorized to reduce tuning time when changing frequency.
Smooth Main Tuning Knob Feel
The Main Tuning Knob, made from marchined aluminum parts, has the solid feeling of a largre flyweheel, while being nimble and smooth in operation. Each user may set his/her favorite torque feeling of the Main Dial rotation.
USB Capable
The FT DX 1200 can be connected to a PC with a USB cable through the use of an optional SCU-17 Interfeace Unit. This unit will support CAT, USB Audio In/Out, TX control (PTT, Key, Shift), and firmware updates.
Remote Control From A Distant Location
External control (CAT) is possible using Serial Port or the optional SCU-17 USB Interface Unit. This feature means the FT DX 1200 can be remotely controlled from a distant location!
Big TFT Full-Color Display For Superior Operability and Visibility
The FT DX 1200 presents a wide view angle, high contrast LCD 4.3 inch TFT impressive full color display that provides a convenient view of the radio's working functions. Superior operability is realized with this convenient display. It permits excellent visibility from different viewpoints. Even with the many FT DX 1200 features and functions, the TFT display makes operation of the radio easy and comfortable.
• A Block Diagram Displays RX Signal Path
• Choose Analog Type or Bar Graph Meter
• Separate VFO-A, VFO-B Transmit and Receive Frequency Display
• Bandwidth of the spectrum scope: 20kHz, 50kHz, 100kHz, 200kHz, 500kHz, or 1MHz
• TX and RX markers appear during "spit" operation
• Level Indicator
The function names and the setting levels of the following functions are shown in the TFT main display when a function knob is rotated: Clarifier, Microphone Gain, Speech Processor, SHIFT, WIDTH, KEYER SPEED and CONTOUR
Cursor Keys
Six keys that are used frequently in normal operation are located at the left side of the TFT display. Other functions can be operated by pressing the "SCOPE" key which changes the "Spectrum Scope screen" to "Function Key Display screen". Even if the radio is turned off, the last operated Key Function is memorized and highlighted.
Spectrum Scope
The FT DX 1200 has a standard automatic sweeping high speed spectrum scope in line with dial operations. The spectrum scope function that allows for an instant view of the signals, their strengths and distribution within a band is supplied as standard. The spectrum scope sweep function has two modes available: the normal mode, where the band is swept once when the SELECT button is pressed, and the AUTO mode where the band is automatically swept at preset intervals. No receive audio is generated during sweeping, but as sweeping is done at an extremely high speed this is a brief instant of approximately 300 msec. If the operator quickly operates the main dial to make a big frequency change in AUTO mode, an automatic sweep is performed and the display is refreshed. This enables frequency tuning while checking the spectrum in real time. The moment tuning is halted the receive frequency audio is resumed; as no sweeping is performed during slow frequency changes to tune in to another station, there is no interruption to the receive audio. Operation therefore feels natural and is without stress. Additonal scope features include:
1. Six different options: 20 kHz, 50 kHz, 100 kHz, 200 kHz, 500 kHz and 1 MHz.
2. TX and RX markers are displayed in the spectrum scope, enabling the user to confirm the relationship between the receive and transmit frequencies at a glance. This is particularly useful in the case of split operation.
3. Full TFT screen signal spectrum can be viewed in detail by simply pressing the SCOPE key.
Optional FFT-1 Unit provides the following additional features:
1. AF-FFT (Audio Frequency Fast Fourier Transform) scope.
This AF-FFT function was first demonstrated in the FT DX 9000 series. With this Scope, the audio characteristics of the received signals; the effect of adjusting the RX IF filter performance; and utilizing the QRM rejection features, may be visually observed. It is also possible to observe the TX audio characteristics of your own signal while using the Monitor function. This is very effective for tuning the parametric equalizer for voice characteristics and the microphone audio.
2. RTTY/PSK31 Encode Decode
3. CW Decode
4. CW Auto Zero-in
Superior Triple Conversion Receiver
The FT DX 1200 high performance triple conversion receiver circuit structure enables elimination of unwanted signals through filters at each stage as well as optimized gain distribution.
Top Performing Receiver RF Front End
The receiver front end is exposed to strong signals directly from the antenna. Yaesu engineers carefully selected and tested active elements like the RF amplifier, but also passive circuit components and coils, so that no spurious or unwanted signals are created. By pressing the ATT key on the front panel, the operator picks from four selectable stages of attenuation to attenuate interfering strong signals. The effect of strong out of band interfering signals on the RF amplifier is further reduced by significant attenuation through 8 band pass filters in the FT DX 1200.
Effective QRM and QRN Rejection
Effective QRM rejection is achieved from the FT DX 1200 IF DSP. The 32-bit high speed floating decimal point DSP, TMS320C6727B (maximum 2800 MIPS/ 2100 MFLOPS) made by Texas Instruments, is used for the IF section of the FT DX 3000. The signal is processed with the high speed 300 MHz clock frequency.
• Proven IF WIDTH and IF SHIFT functions provide great QRM rejection performance
IF SHIFT
With the normal bandwidth, the pass band area can be moved relatively, so that harmful signals are rejected from the pass band
IF WIDTH
By adjusting the band width, Interfering signals can be removed from both sides of the pass band, without changing the pass band position. The IF width function can make the pass band narrower with one-touch. This function is effective in a pile-up or contest, when the undesired signals are located just above and below the target signal.
CONTOUR
The CONTOUR function ideally tailors the received audio signal without changing the bandwidth. The CONTOUR function varies the outline of the IF DSP filter pass band characteristics, and the in-band signal construction can be partially altered. Different from the IF SHIFT or IF WIDTH, the special CONTOUR pass band, can reduce or peak the desired signal, partially and continuously across the pass band. This feature is effective especially when the undesired signal is close to the center frequency.
Digital Noise Reduction (DNR) by DSP
The installed digital noise reduction circuit provides 15 separate parameters. The noise reduction constants may be set to the optimal working point by varying the 15 step parameters according to the actual noise within the HF band. The desired signal components are peaked and the random noise components are effectively cancelled.
IF NOTCH
This high Q circuit has steep attenuation characteristics of 70dB or more. Effective removal of a strong beat signal is obtained. The damping characteristics can be switched to wide or narrow band width, and the attenuation level may be adjusted in the Setting Mode Menu. Interfering signals may be attenuated, while minimizing the impact on the received signal.
CW APF (Audio Peak Filter)
In the CW mode, the APF (Audio Peak Filter) function has an audio peak at the signal frequency; this improves the S/N and increases the readability of the CW signal. The APF peak frequency can be finely aligned.
Selectable Roofing Filers
Roofing filters of 3 kHz, 6 kHz and 15 kHz filters are fitted before the 40.455 MHz 1st IF. These filters reduce the later burden on the receiver mixer and improves the adjacent multi signal characteristics.
Very Low Noise Floor - Terrific Signal to Noise Ratio
The S/N ratio (signal-to-noise ratio) of the local signal that is injected into the 1st IF mixer is one of the most important factors for improving the receiver properties in the ultra-multi-signal environment.
In the FT DX 1200, the combination of it's high stability and high accuracy 40 MHz TCXO (± 0.5ppm, -10 °C ~ +60 °C), and it's DDS create the fundamental frequency of this radio, and is locked to the PLL-IC and VCO directly. This circuit construction and method creates the highest quality local signal, with superior S/N performance.
Three IPO Settings - Best Signal Reception During Changing Band Conditions
3-step IPO settings permit the operator to select the most appropriate gain for best signal reception. This variety of selections provides superior receiver performance and the best possible communications with changing band conditions.
The IPO (Intercept Point Optimization) is selected by a control switch located on the front panel. The IPO selection determines the gain of the RF amplifier. The gain setting is very effective in optimizing the receiver performance, depending on the antenna and the communication propagation conditions. The IPO, the ATT and one stage of the RF amplifier are used to optimize the signal levels that are sent to the mixer.
High Quality Audio With Punch
The modulation circuit of the FT DX 1200 utilizes digital variation operational modulation, which creates ideal high quality transmission audio.
Microphone Amplifier that includes Parametric Equalizer
The modulation circuit of the FT DX 1200 utilizes the digital variation operational modulation type, which creates ideal high quality transmission audio. This radio has a parametric equalizer that makes possible versatile adjustment of the TX audio quality by aligning the TX band audio spectrum. The parametric equalizer can alter the Low, Mid and High part of the audio separately. This three stage parametric equalizer can generate high quality TX audio sound because it can be tuned in detail…without sacrificing the audio dignity.
IF DSP Speech Processor – DX'er and Contester Proven
The SSB Speech Processor uses IF digital signal processing to increase the intelligibility of the transmitted signal during weak signal crowded conditions. The DSP increases the average power of the important speech spectrum components and reduces the TX power of the less significant components. Adjust the compression level in the Menu Mode to adapt the transmitted SSB signal to best suite your voice characteristics, the situation, propagation conditions and pile-up demands.
Two Antenna Inputs
Two antenna connectors are available on the FT DX 1200 Rear Panel.
• Having multiple antenna selections is an especially effective feature for DX and Contest operating.
• Antenna connection selections memorized and recalled when changing bands.
• It is possible to use Ant 1 for transmit and Ant 2 for receive.
For the CW Enthusiast
CW Zero-in Display
The TX CW side tone pitch frequency can be adjusted in the MENU. The setting range is 300 Hz to 1050 Hz. This tone pitch is used as the reference in transmission. This means that the point, at which the TX pitch is equal to the RX pitch, becomes the zero-in point.
In addition, the FT DX 1200 has a CW tuning display feature. By using this function, as the pitch of the sound that is heard when receiving the CW signal becomes closer to the programmed pitch, the lighted mark moves closer to the center of the display. When the center mark light turns RED, the signal is at the zero-in point.
CW APF (Audio Peak Filter)
In the CW mode, the included APF (Audio Peak Filter) function has an audio peak at the signal frequency; this improves the S/N and increases the readability of the CW signal. The APF peak frequency can be finely aligned. APF bands can be selected from three steps according to preference, whereas peak frequencies can be fine-tuned with the APF switch located on the front panel.
Other CW Features
• Dial step setting (for the CW mode only)
• CW SPOT Feature
• CW Full Break-in
• CW "VOX" Delay is adjustable
• CW Mode reversal (USB or LSB)
• CW Keying available during SSB operation
• Separate KEY Jacks on the front and rear panels
• Electronic Keyer Included
• Four-channel Message Memory (50 characters each); five memories available with FH-2 Keypad (optional)
• Automatic "Beacon" keyer mode
Optional Fully-Automatic µ-Tuning Kit
The u-Tuning Kit that was developed for the FT DX 9000, is optionally available for use with the FT DX 1200. No other Amateur Radio transceiver manufacturer offers a comparable device that may improve your DXing performance in some challenging operating situations.
A large diameter with an adjustable ferrite magnetic material (Ni-Zn ferrite) core, is combined, with a high resolution and high torque stepping motor to automatically find the resonance point. By inserting these tuning units prior to the RF front end of the receiver, the IP3 points are improved by around 4 dB. Three individual tuning units are available covering frequencies from 1.8 MHz through 14 MHz. Many FT 950, FT 2000/D, FT DX 3000, FT DX 5000 and FT DX 9000 Yaesu customers have used them and found them especially effective for use on the Lower Bands.
ICOM - IC7300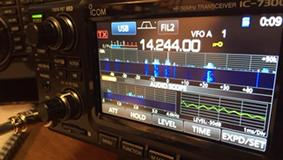 The IC-7300 is a revolutionary compact radio that will excite HF operators from beginners to experts. This new model has a high-performance real-time spectrum scope and employs a new RF direct sampling system. The IC-7300's real-time spectrum scope provides top-level performance in resolution, sweep speed and dynamic range. While listening to received audio, the operator can check the real-time spectrum scope and quickly move to the intended signal. The combination of the real-time spectrum scope and waterfall function improves the quality and efficiency of HF operation.
Spec :
5MHZ and 70MHz band
Class Leading Real-Time Spectrum Scope
High-Resolution Waterfall Function
Audio Scope Function
RF Direct Sampling System
New "IP+" Function
Class Leading RMDR (Reciprocal Mixing Dynamic Range) and Phase Noise Characteristics
Large Touch Screen Colour TFT LCD
Multi-Dial Knob for Smooth Operation
SD Memory Card Slot for Saving Data
15 Discrete Band-Pass Filters
Built-In Automatic Antenna Tuner
Superior Sound Quality
New HM-219 hand microphone supplied
Effective large cooling fan system
A Multi-function meter
101 memory channels (99 regular, 2 scan edges)
Optional RS-BA1 IP remote control software (the spectrum scope with the waterfall can be observed)
CW functions: Full break-in, CW reverse, CW auto tuning
The new RF direct sampling system employed by the IC-7300 realises class leading RMDR (Reciprocal Mixing Dynamic Range) and Phase Noise characteristics. In addition, the IC-7300 features the 70MHz band (European versions only), a large touch screen colour TFT LCD, convenient multi-function dial knob, automatic antenna tuner, voice recorder function and more.
Class Leading Real-Time Spectrum Scope
You no longer have to choose whether to listen to the audio or have the spectrum scope sweep for signals as the IC-7300's real-time spectrum scope offers the simultaneous operations found in higher tier models. This means you can use either the spectrum scope or the waterfall to quickly move to an intended signal while listening to the receiver audio. The IC-7300's touch screen introduces a "Magnify" function. So, when you first touch the scope screen around the intended signal, the touched part is magnified. A second touch of the scope screen changes the operating frequency and allows you to accurately tune.
High-Resolution Waterfall Function
The combination of the waterfall function and the real-time spectrum scope assists in maximum receive performance of the IC-7300 and increases QSO opportunities without missing weak signals. The waterfall function shows a change of signal strength over a period of time and allows you to find weak signals that may not be apparent on the spectrum scope.
Audio Scope Function
The audio scope function can be used to observe various AF characteristics such as microphone compressor level, filter width, notch filter width and keying waveform in the CW mode. Either the transmit or receive audio can be displayed on the FFT scope with the waterfall function and the oscilloscope.
RF Direct Sampling System
The IC-7300 employs an RF direct sampling system. RF signals are directly converted to digital data and processed in the FPGA (Field-Programmable Gate Array), making it possible to simplify the circuit construction. This system is a leading technology making an epoch in amateur radio.
New "IP+" Function
The new "IP+" function improves 3rd order intercept point (IP3) performance. When a weak signal is received adjacent to strong interference, the AD converter is optimized against signal distortion.
Class Leading RMDR (Reciprocal Mixing Dynamic Range) and Phase Noise Characteristics
The IC-7300's RMDR is improved to about 97dB* (typical value) and Phase Noise characteristics are improved about 15dB (at 1 kHz frequency separation) compared to the IC-7200. The superior Phase Noise characteristics reduce noise components in both receive and transmit signals.
* At 1 kHz frequency separation (received frequency: 14.2MHz, MODE: CW, IF BW: 500Hz)
Large Touch Screen Colour TFT LCD
The large 4.3 inch colour TFT touch LCD offers intuitive operation. Using the software keypad of the touch screen, you can easily set various functions and edit memory contents.
Multi-Dial Knob for Smooth Operation
The combination of the multi-dial knob and the touch screen offers quick and smooth operation. When you push the multi-dial knob, menu items are shown on the right side of the display. You can select an item with a touch of the screen and adjust levels by turning the multi-dial knob.
SD Memory Card Slot for Saving Data
The IC-7300 can store various contents into SD card such as received and transmitted audio, voice memories, RTTY/CW memories, RTTY decode logs and captured screen images. Personal and firmware updating data can also be stored to the SD card for easy setting.
15 Discrete Band-Pass Filters
The IC-7300 has 15 discrete RF band-pass filters. The RF signal is only passed through one of the band-pass filters, while any out of range signals are rejected. High Q factor coils are used to minimize the loss in the RF band-pass filters.
Built-In Automatic Antenna Tuner
The antenna tuner memorizes its settings based on your transmit frequency, so that it can rapidly tune when you change operating bands. The Enforced Tuning function* allows a wide range of temporary antennas to be tuned.
* Do not use the Enforced Tuning function except in case of an emergency. Transmission power may be reduced.
Superior Sound Quality
To offer superior sound quality, a new speaker unit has been incorporated and is allocated dedicated space in the aluminium die-cast chassis.
Other features
• New HM-219 hand microphone supplied
• Effective large cooling fan system
• A Multi-function meter
• 101 memory channels (99 regular, 2 scan edges) • Optional RS-BA1 IP remote control software (the spectrum scope with the waterfall can be observed)
• CW functions: Full break-in, CW reverse, CW auto tuning
YAESU - FT101E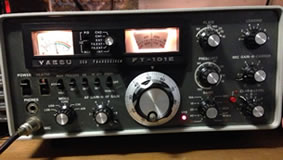 Roughly the same age as me, the Yaesu FT-101E is a solid-state (except finals) transceiver covering 160 through 10 meters in USB, LSB, CW and AM modes. The analog display provides 2 kHz accuracy. An eight-pole SSB filter reduces QRM. Input power is a beefy 260 watts PEP on SSB, 180 watts on CW (50% duty cycle) and 80 watts AM (lower on 160 and 10 meters). It operates from 12 VDC 20 amps or 100-234 VAC. There is also an AUX range crystal position for any 500 kHz segment from 14.5-28 MHz.
Features
- 160-10 meters
- Solid State
- Adjustable VOX
- Speech Processor
- Sealed Solid-state VFO
- Semi Break-in CW
- Calibrator 25/100 kHz.
- Noise Blanker
- WWV/JJY Receive
- 6JS6C x 2 Finals
YAESU - FT817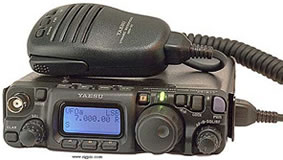 The world's first self-contained, battery-powered, Multi-mode Portable Transceiver covering the HF, VHF, and UHF bands!
For more than four decades, Yaesu has been a world leader in the design and manufacture of high-performance multi-mode base station and mobile transceivers, as well as FM handhelds.Yaesu broke new ground with the introduction of the FT-817: the world's first HF/VHF/UHF self-contained battery-powered Multi-mode Portable Transceiver. Providing up to five watts of power output, the FT-817 is designed for operation on the 160-10 meter HF bands, plus the 6 meter, 2 meter, and 70 cm bands. Whether your preferred operating mode is SSB, CW, AM, FM, Packet, or SSB-based Digital modes like PSK31, the FT-817 is ready to join you on your next hiking, camping, or search-and-rescue adventure!
Ultra Compact HF/VHF/UHF Multimode Rig
Despite its incredibly small size (5.3" x 1.5" x 6.5"), the FT-817 delivers big performance! Its next-generagion PA puts out five watts on all HF bands, plus the 50 MHz, 144 MHz, and 430 MHz bands, on all popular operating modes: USB/LSB/CW/AM/FM/Packet/PSK-31/RTTY.
Wide Receiver Frequency Coverage
Enjoy shortwave and FM broadcasts, public safety communications, and airband calls thanks to the extended frequency coverage of the FT-817ND, which includes reception on 100 kHz - 56 MHz, 76 - 108 MHz (W-FM only), 108 - 154 MHz, and 420 - 470 MHz.
Two Antenna Connectors for Ease of Installation
The front panel includes a convenient BNC connector for attachment of a whip or VHF/UHF rubber flex antenna (supplied). The rear panel includes a type "M" ("SO-239") connector.
As shipped from the factory, the BNC jack is active on 50/144/430 MHz, while the "M" connector is active on HF. But using the Menu, you can assign, for example, 50 and 144 MHz to the rear panel, if your coaxial cables have matching plugs.
Receiver Enahncement Features
• IF Shift – For reduction of adjacent-frequency interference.
• IF Noise Blanker – For reduction of ignition and other impulse-type noise.
• IPO (Intercept Point Optimization) – Bypasses RX Preamp on HF/50 MHz for improved performance during strong-signal conditions.
• ATT (Front End Attenuator) – For more pleasant reception of very strong signals.
Outstanding CW Features
• CW "Semi Break-in," with T/R recovery delay programmable from 10
ms ~ 2500 ms. At 10 ms setting, performance emulates QSK operation.
• CW Reverse: provides BFO injection from LSB-side, instead of default USB-side.
• CW Pitch Control: adjusts TX offset and (identical) sidetone between 300 Hz and 1000 Hz in 50 Hz steps; this allows precise spotting on DX stations. Sidetone level is adjustable.
• Built-in Electronic Keyer, with speed adjustable between 4 WPM and 60 WPM, and Weight (Dot:Dash Ratio) adjustable between 1:2.5 and 1:4.5.
• For emergency use, the Menu allows you to set up the Microphone's [UP] and [DWN] keys for generation of "Dots" and "Dashes" on CW!
Versatile, Easy-To-See Liquid Crystal Display (LCD)
A wealth of information is available on the front panel LCD:
• When you have to be away from the radio for a few minutes, but
would like a visual indication of activity while you're away, activate the Spectrum Scope Monitor. The Spectrum Scope Monitor allows you to watch activity ±5 channels from the current operating frequency.
• The LCD illumination color may be set to either Blue or Amber color, using the Menu.
• Watch for low battery trouble using the Battery Voltage Meter display selection.
• For ease of viewing while outdoors, you can double the size of the frequency display
High Performance Collins® Mechanical Filter Options
An optional filter slot is provided in the FT-817ND, allowing the owner to install one of two available Collins® Mechanical Filters. For CW operation, choose the 7-pole YF-122C (500 Hz bandwidth), or for very natural-sounding SSB select the 10-pole YF-122S (2.3 kHz bandwidth).
Internal Battery Power
The FT-817 is the only rig in its class with internal battery operation capability. Shipped from the factory with a battery tray for 8 "AA" batteries, the FT-817D may also be operated from the optional FNB-72 Ni-Cd battery pack. full power output is available under battery power.

YAESU FT-8700R TRANSCEIVER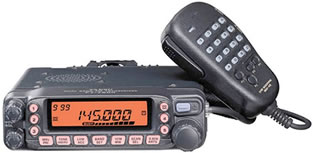 The Yaesu FT-7800R dual bander operates on 2 meters and 70 cm. High power output is featured with 50 watts on 2 meters and 40 watts on 430 MHz. CTCSS/DCS Encode/Decode is built in. Over 1000 memories are available. It is WIRES compatible. The FT-7800R well designed front panel provides simple, safe operation. The FT-7800R is ideal for the amateur who does not require cross-band repeat as found on the FT-8800R and FT-8900R. The FT-7800R has excellent receive range covering 108 to 520 and 700-990 MHz (less cellular). Operating this radio is very simple and straight forward, and you may program it to your operational preferences via a menu system. The FT-7800R features Yaesu's ARTS™ Auto-Range Transponder System, important in search-and-rescue applications. ARTS provides a "hand-shake" with other ARTS equipped transceivers and displays out of range or in range. A six character CW ID is also provided for your station every ten minutes during ARTS operation.
The FT-7800R has a convenient mini-DIN DATA jack on the back panel for a Packet TNC connection to either a 1200 baud or 9600 baud Packet TNC (not supplied). The FT-7800R comes with a MMB-36 mobile mounting bracket, DC cord and MH-48A6J Up-Down, illuminated DTMF microphone.
Features:
- Five One Touch Hyper Memories
- 1055 Memories
- 50 Watts Output (40 Watts on 430 MHz)
- DCS
- Backlit DTMF Mic
- Large Omni-Glow™ Alpha Numeric LCD
- CTCSS Encode/Decode
- DCS Encode/Decode
- Smart Search
- 1200/9600 bps Packet Jack
- Menu customization
- ARTS™ Auto-Range Transponder System
YAESU FT-857 TRANSCEIVER
My HF Portable and Mobile rig... the FT-857D, the world's smallest HF/VHF/UHF mobile transceiver, provides base station-type performance from an ultra-compact package that's ideal for mobile or external battery portable work. Wide frequency coverage, outstanding receiver performance, and the convenience of optional remote-head operation make the FT-857D the expert's choice for high-performance mobile operation!
Ultra Compact Design
Measuring just 6.1" x 2" x 9.2", the FT-857 is the world's smallest HF/VHF/UHF up to 100W multimode transceiver! Its rugged case design is a masterpiece of ergonomic design, with often-used switches and knobs conveniently positioned for easy access.
High-Performance Receiver Design
Building on the acclaimed performance of the FT-1000D, Mark-V FT-1000MP, and FT-897, Yaesu's engineers have crafted the FT-857's front end for a very low noise floor, along with wide dynamic range. Utilizing an up-conversion architecture for HF with a first IF of 68.33 MHz, the FT-857 features a double-conversion superheterodyne system (triple conversion on FM), with the 2nd IF at 10.7 MHz. Extensive bandpass filtering in the front end, along with careful device selection and gain distribution, yield a receiver system ready for the strong-signal challenges of today's crowded bands!
Wide Frequency Coverage
Providing transmitter coverage of the HF, 50 MHz, 144 MHz, and 430 MHz Amateur bands, the FT-857 also includes receive coverage on 100 kHz to 56 MHz, 76 to 108 MHz, 118-164 MHz, and 420-470 MHz. Enjoy the excitement of public safety monitoring, along with weather broadcasts, AM and FM broadcasts, aviation communications, as well as the action on the Ham bands!
Versatile Memory System
The FT-857 provides up to 200 "Main" memory channels, each of which may be named with an Alpha-Numeric label of up to eight characters. These 200 Memories may be separated into as many as 10 Memory Groups of 20 Memories each. For added convenience, you also get a "Quick Memory" and a "Home Channel" on each band, plus ten pairs of band-limit memories, to let you restrict operation to a sub-band, if you like.

Big Radio Tuning Dial and Outstanding Ergonomics
Ease of operation of the FT-857 is enhanced by the large-diameter (1.7") Main Tuning Dial, similar in size to the tuning knob of many base station rigs. Selectable tuning steps of 2 kHz/4 kHz per revolution allow easy navigation around your favorite bands, while important keys and switches are strategically placed around the front panel for quick access.
Features
160-2 meters +440
Electronic Keyer
200 Alpha Memories
DSP Option
100 Watts HF Output
50 Watts 2 Meter Output
20 Watts 440 MHz Output
Spectrum Display
YAESU FT-60 YAESU HANDHELD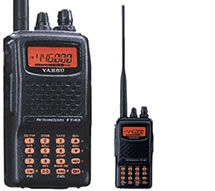 The FT-60's small size allows you to take it anywhere - hiking, skiing, or while walking around town - and its operating flexibility brings the user many avenues of operating enjoyment. Its incredibly tiny FNB-83 Rechargeable Nickel-Metal Hydride Battery Pack provides up to 5 Watts of transmit power on the 144 MHz and 430 MHz Amateur Bands.
Besides 144- and 430-MHz transceiver operation, the FT-60 provides receive coverage of the VHF and UHF TV bands, the VHF AM aircraft band, and a wide range of commercial and public safety frequencies!
An Emergency Automatic ID system will automatically cause the FT-60 to transmit your call sign and engage the mic if you are disabled and unable to press the PTT switch. Two programmable keys are provided for your convenience. There is even a password feature to prevent unauthorised use of your radio.
Features:
- Over 1000 Memory Channels w/Alpha-numeric Labels
- Ten Memory Banks for Channel Allocation
- High Power Output: 5 Watts
- Long-life FNB-83 (7.2 V/1400 mAh) and Overnight Charger included
- CTCSS and DCS Encode/Decode, with Split Tone and DCS Encode-only Capability
- Nine DTMF Auto-Dialler Memories
- Two Front Panel Programmable Keys
- RF Squelch (only passes signals exceeding programmed level)
- Mono-band and Memory-only Operating Modes
- Rugged Die-cast, Water-resistant Case Construction
- Huge LCD Display
- Transmit Time-Out Timer (TOT) and Automatic Power-Off (APO)
ANYTONE AT-5189 - 4M FM MOBILE TRANSCEIVER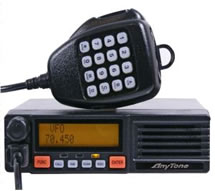 This 25 watt transceiver will make a great mobile set up, or just use it in the shack, 4m (70Mhz) is growing in activity, and is a very interesting and rewarding band.to operate, join in the fun now, and we include the great DTMF Multi-Function hand microphone too, it has well backlit buttons too !
- AnyTone AT-5189 mobile FM transceiver
- Frequency: 70MHz - 4m Amateur band (66-88MHz)
- Operating Voltage - 13.8v
- Output Power: 5/10/25W adjustable
- 250 memory channels, every channel can be named with 32 characters.
- CTCSS/DCS/DTMF/2Tone, 5 Tone decodes and encodes.
- Compander to reduce noise.
- DTMF Multi-Function Hand Microphone Included
- ANI function (display missed calls) / PTT ID.
- Single call, group call, selective call and emergency
- Size 160 x 155 x 40mm
- Weight 1Kg
ICOM IC 202 2m SSB Tranceiver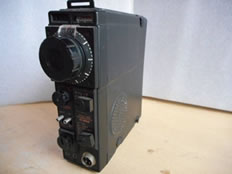 An old rig that doesn't see much use. The IC 202 2m SSB rig from the mid 1970s.
The IC 202 allows for a set of internal batteries so hand-held VHF DXing became possible with a commercial rig for the first time. The styling is distinctly military with its upright, solid look - often referred to as the 'handbag' radio
The IC202 was a very clean rig with an excellent receiver and transmitter.
Band - 144-146MHz (200kHz VXO controlled segment)
Power - 3W pep SSB/CW
Size - 61 x 183 x 162 mm
Modes - SSB and CW